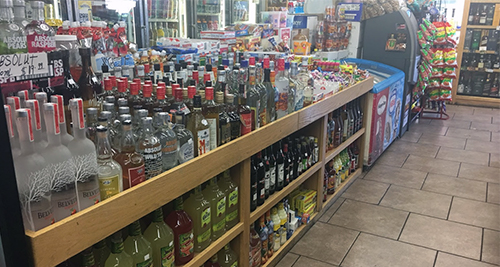 No whiskey store can rival the selection and service that
Tower Liquor
provides to customers! No matter what drink you're looking for, rest assured it's on our shelves—and if it's not, we can order it for you. We invite you to stop by today and browse our great deals, or drive through if you're in a hurry and take advantage of our time-saving amenities. Some of the options you'll find at our bourbon store include:
Liquor
From top-shelf scotch to brand-name gins, flavored vodkas to best-selling rums, we've got all the liquor you're looking for at prices you'll be happy to pay. Whether you're picking up a single bottle for a special occasion or several varieties for a party, we'll make sure you leave with everything you need.
Beer
There's no better destination for craft beer in Valley of the Sun! Our beer store stocks microbrew options from both local breweries and from across the States, giving you access to IPAs, stouts, sours, lagers, porters, and more.
Wine
Whether you're a wine enthusiast or you just need a bottle for dinner, our wine store in Phoenix, AZ has what you're looking for. We stock everything from affordable favorites to imported, award-winning wines from across the spectrum of the vine.
Smoke Shop Items
Pair your beer or liquor with a great cigar or cigarillo and enjoy bliss! Our smoke shop items are diverse and far-ranging, with favors and brands for everyone.
Vapes
Prefer to vape? We've got vapes of all types. From plug and play options to eliquids and more, whatever you're vaping, we're supplying.
Magazines
You don't need to go far if you're looking for a good read! Our shelves are stocked with popular periodicals for every hobby and pastime.
---
On our scotch store's shelves, you'll find some of the best name brands across beer, wine and liquor suppliers. Come to our bourbon and whiskey store for all of the following great names and more:







In addition to all of your favorite brand names, our bourbon store also stocks a tremendous selection of craft beers from around the country!
You'll find local favorites and exciting new brews at our beer store in Phoenix, AZ.
---
If you're in the Metro Phoenix or Arcadia, AZ area, visit our wine store today or drive through to pick up a bottle of wine, a six-pack or a bottle of liquor. We promise you'll find exactly what you're looking for, at a great price. Contact us at 602-956-2920 to see if we have your drink of choice in stock on our scotch store's shelves!